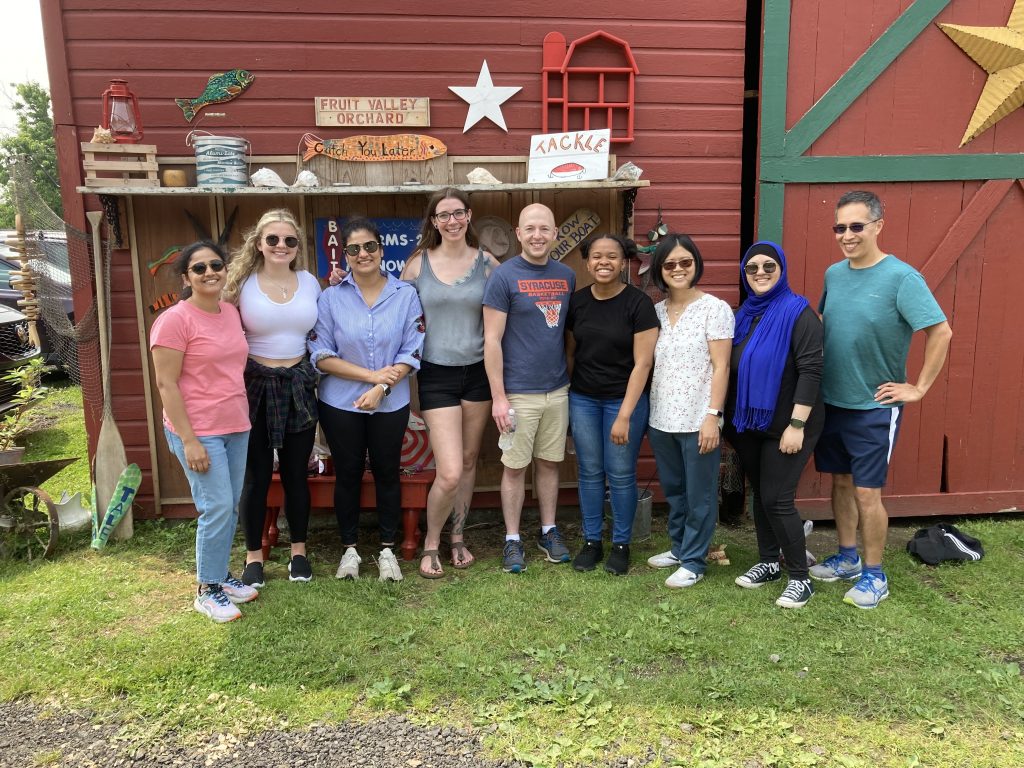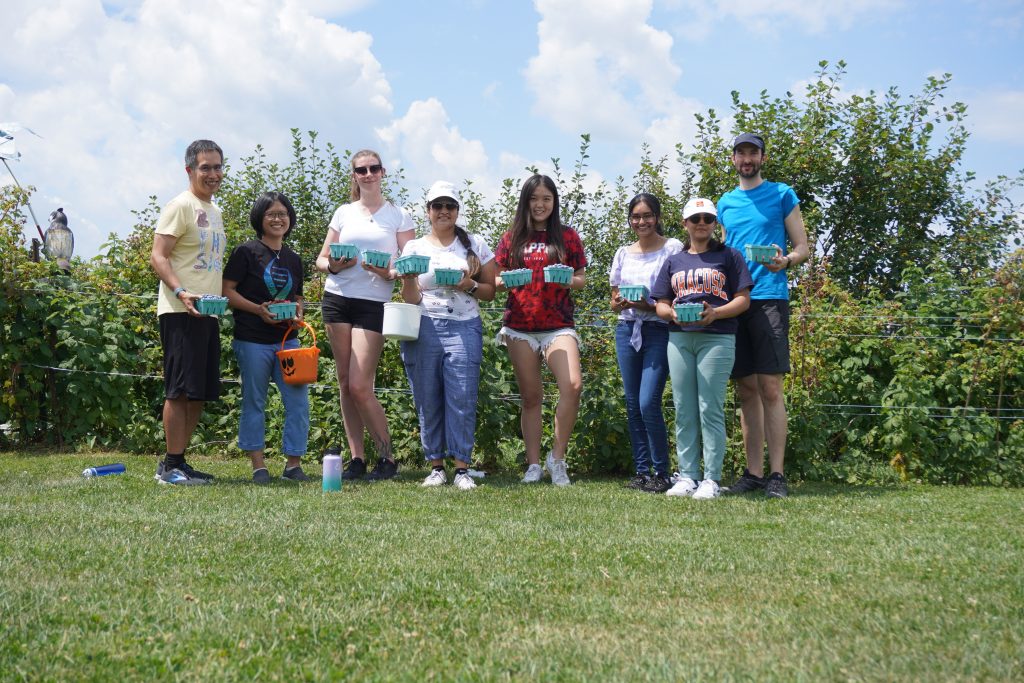 PI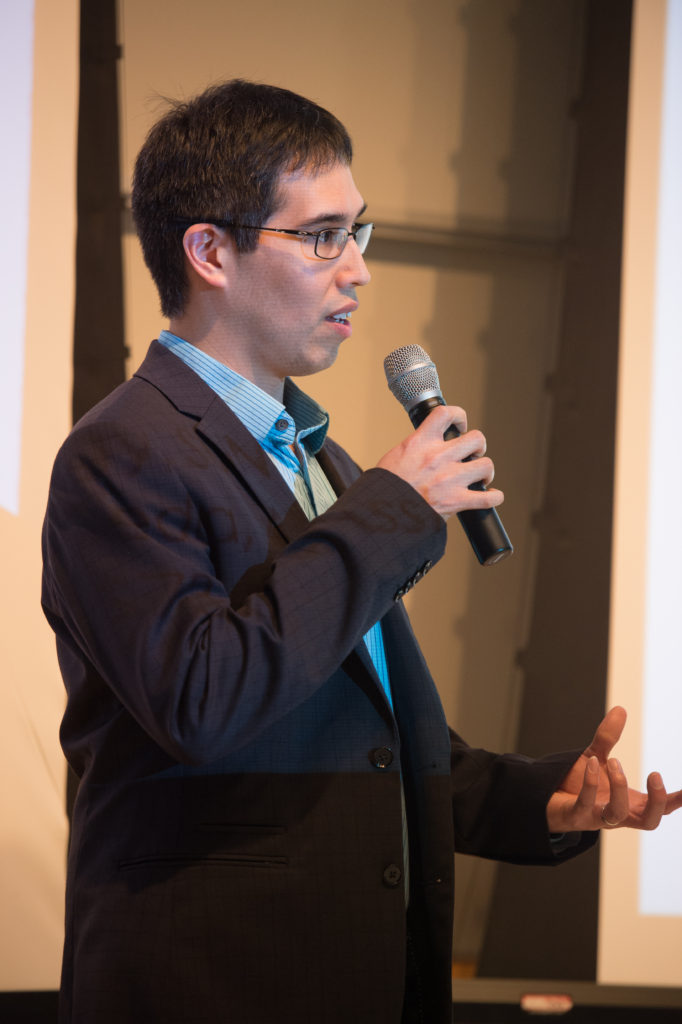 Started at SU in late 2014; jointly appointed in both the Department of Biology and the Department of Chemistry, and a member of the Interdisciplinary Neuroscience Program and the Bioinspired Institute
PhD, Biophysics, Johns Hopkins University (Baltimore, MD)
BA, Chemistry, Mathematics, La Salle University (Philadelphia, PA)
Research Staff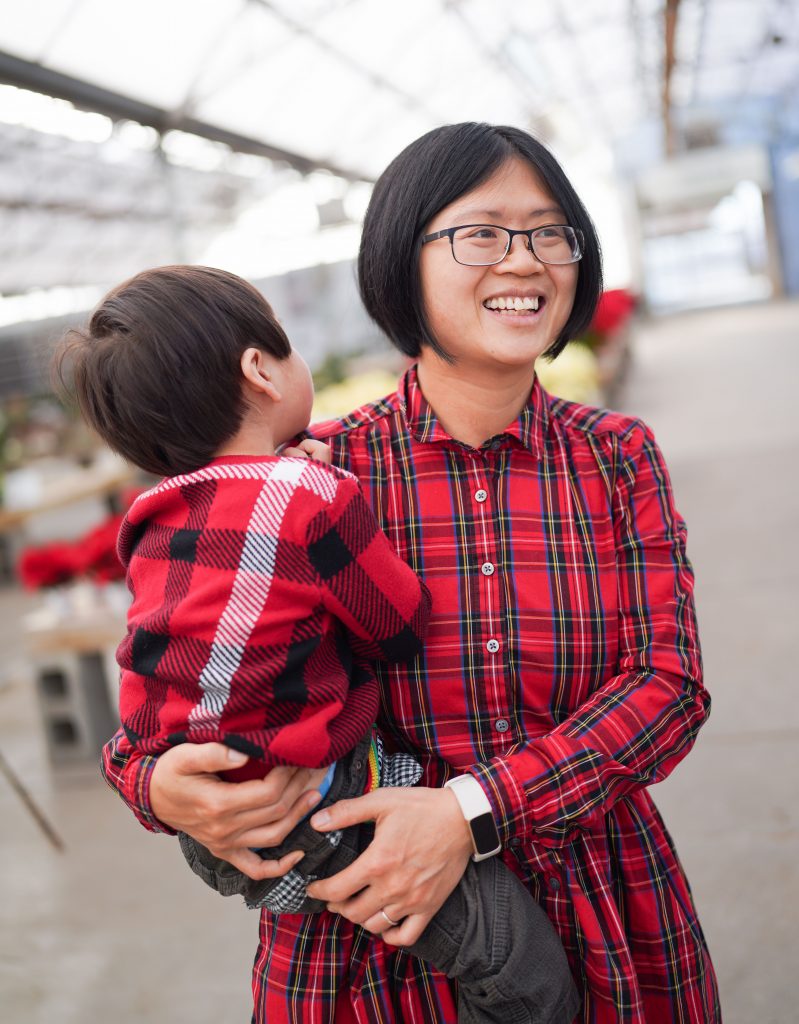 Lab Manager / Research Scientist
Thuy Dao
PhD, Biophysics, Johns Hopkins University (Baltimore, MD)
A graduate of the Doug Barrick lab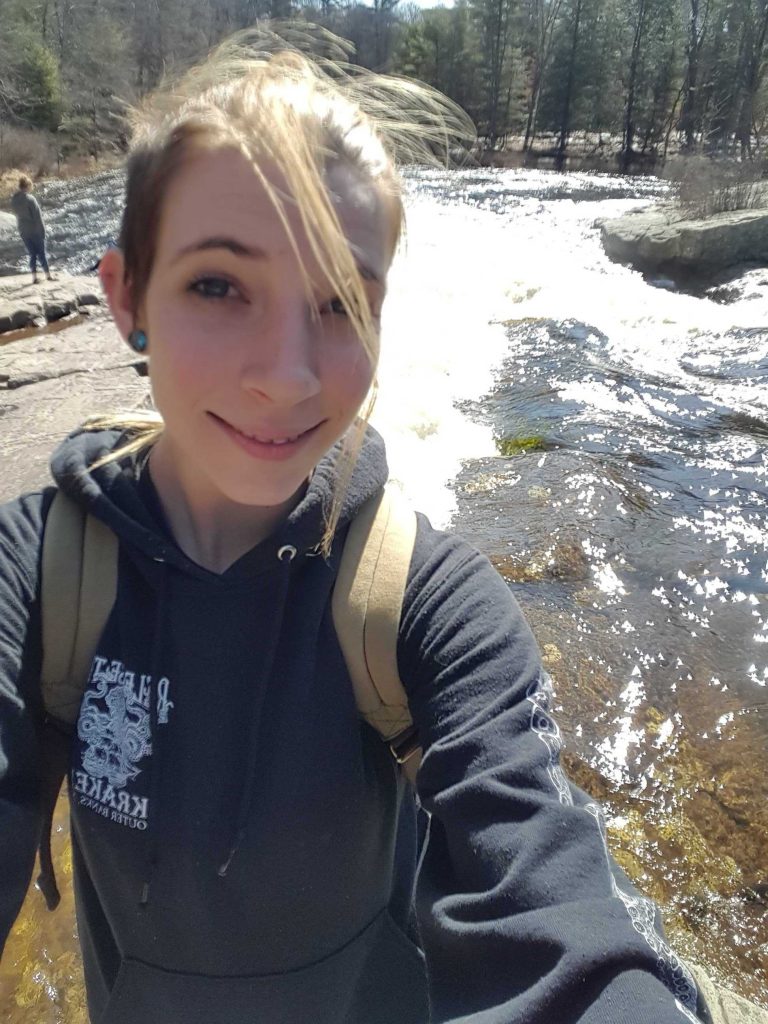 Lab Technician (2022-current)
Bridget Varner
BS, Biochemistry, Syracuse University (Syracuse, NY)
Came to SU from OCC (Onondaga Community College)
Postdoctoral Fellows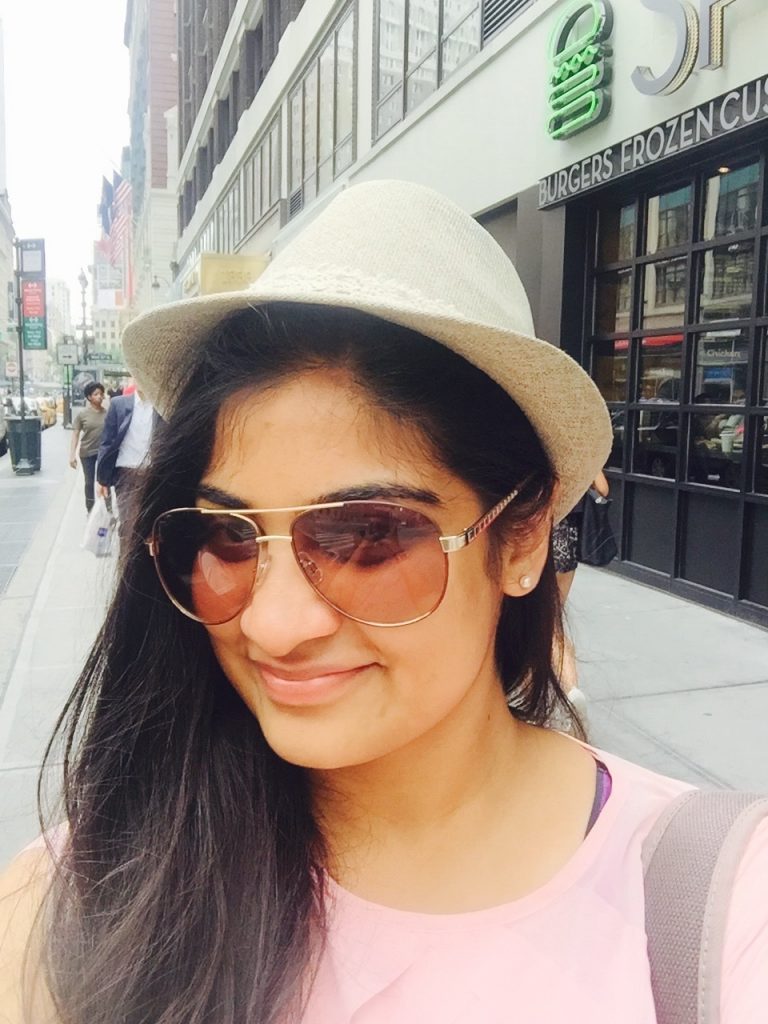 Sarasi Galagedera
PhD Chemistry, University at Albany – SUNY (Albany, NY)
Sarasi started here as a postdoc in early 2021! She is a now quite knowledgeable in protein purification, phase separation assays, and processing small angle X-ray scattering (SAXS) experiments. Read her recent papers in Protein Science and her newest preprint!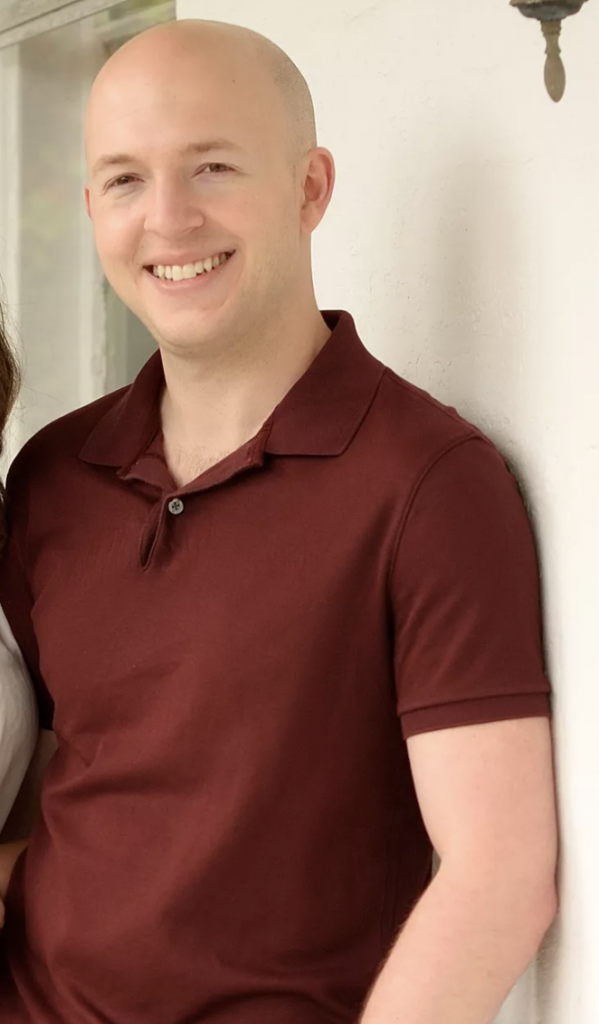 Billy Haws
PhD Biology, Syracuse University (Syracuse, NY)
Billy started in 2022, after graduating from Kate Lewis' lab at SU. His prior expertise is in zebrafish and deciphering functions of DNA-binding proteins important for nervous system development. He now develops live-imaging modalities to understand UBQLN function in cells.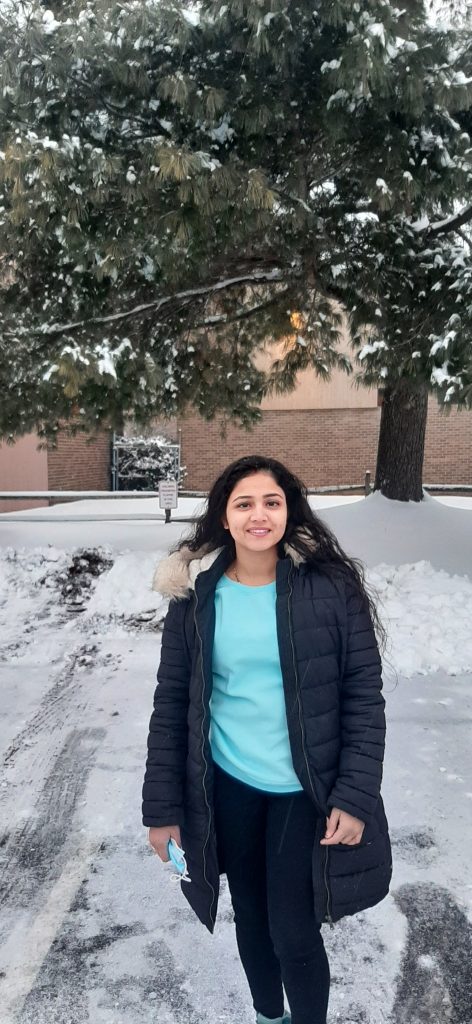 Anitha Rajendran
PhD University of Udine (Udine UD, Italy)
Anitha started in 2022, after finishing her PhD examining condensate formation in cells. Anitha is our expert cell biologist and is currently examining the function of ubiquilins in cells.
Graduate Students
We are recruiting graduate students. This could be you!
Undergraduates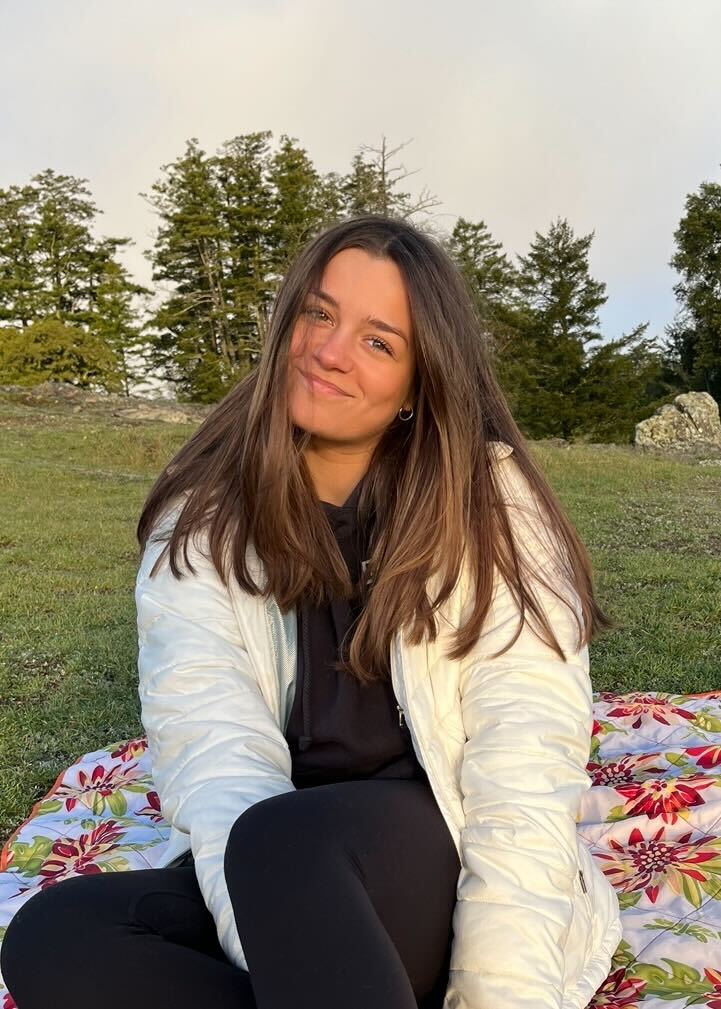 Grace Engel '25 (Biochemistry)
Grace is working with Anitha to investigate the localization of UBQLN2 under different stress conditions.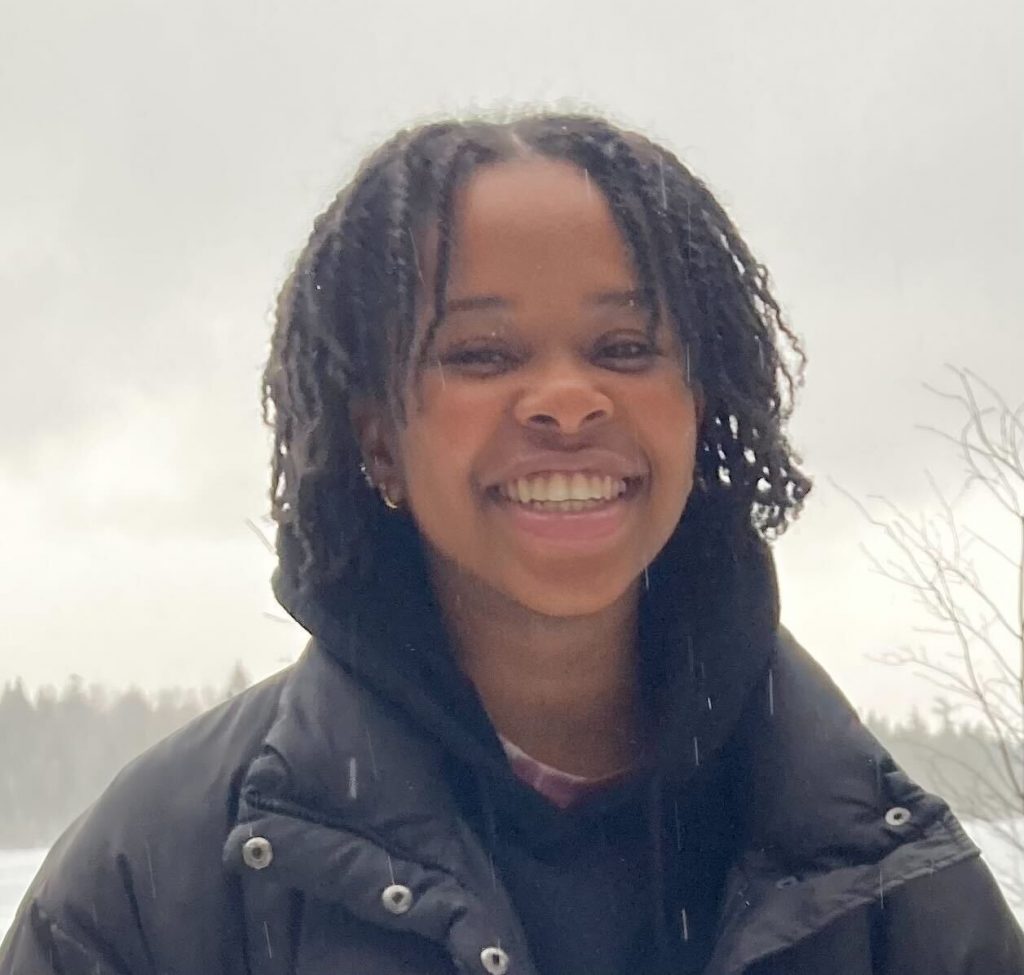 Chidera Olalere '26 (Biochemistry)
Chidera is learning how to determine binding affinities between proteins using NMR titration with Sarasi.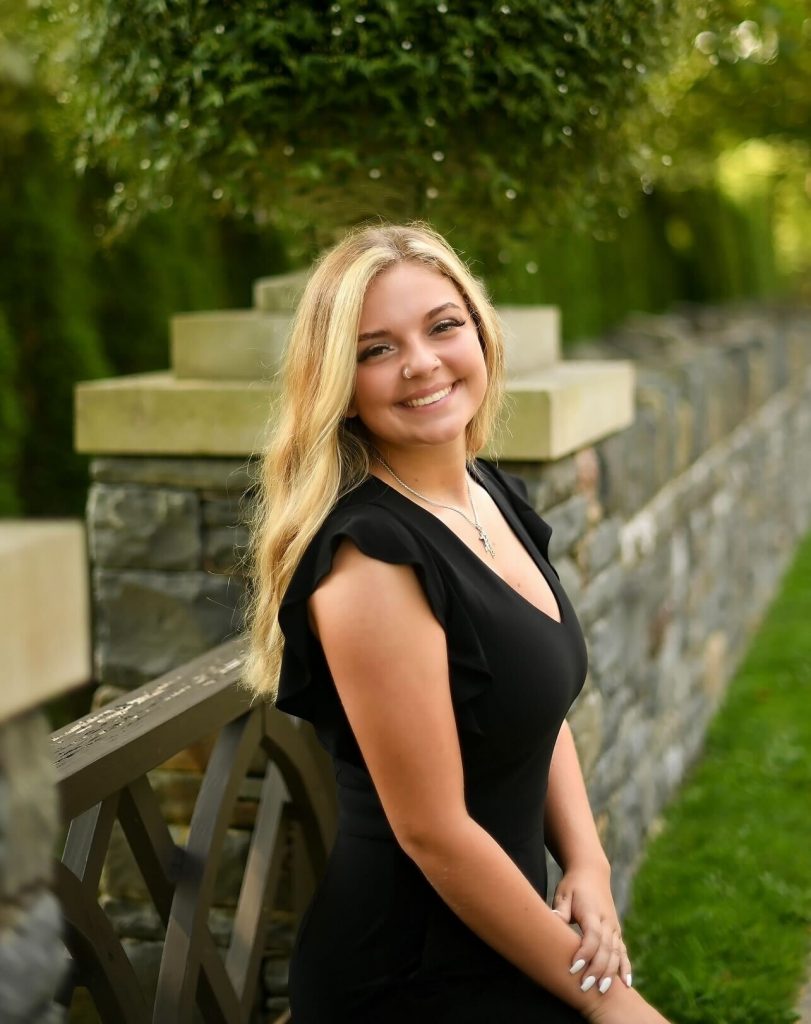 Gianna Frank '26 (Biochemistry/Neuroscience)
Gianna is working with Billy on live cell imaging and data analysis.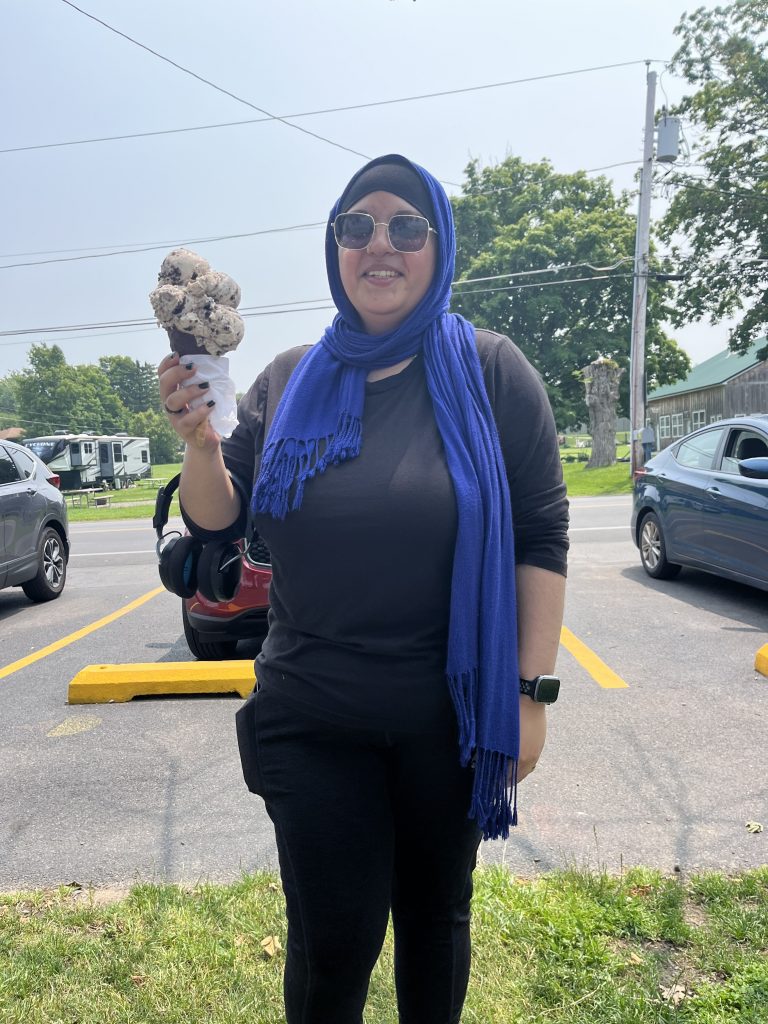 Sini Shqair '26 (Biochemistry)
Sini is working with Thuy on building phase diagrams of PQC proteins.
Alumni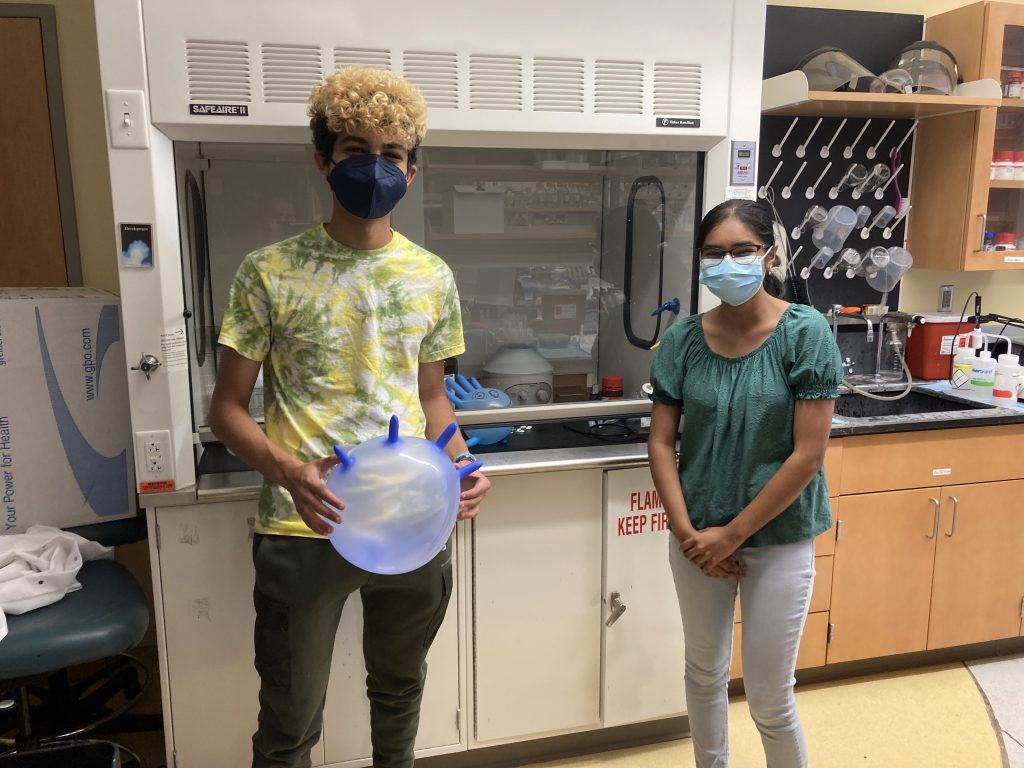 We hosted a few amazing high school students! Here are Omar Bou Aram and Sarah Rinzan, who both were here over summer 2022. They learned a lot about protein purification, phase separation, and dry ice fun!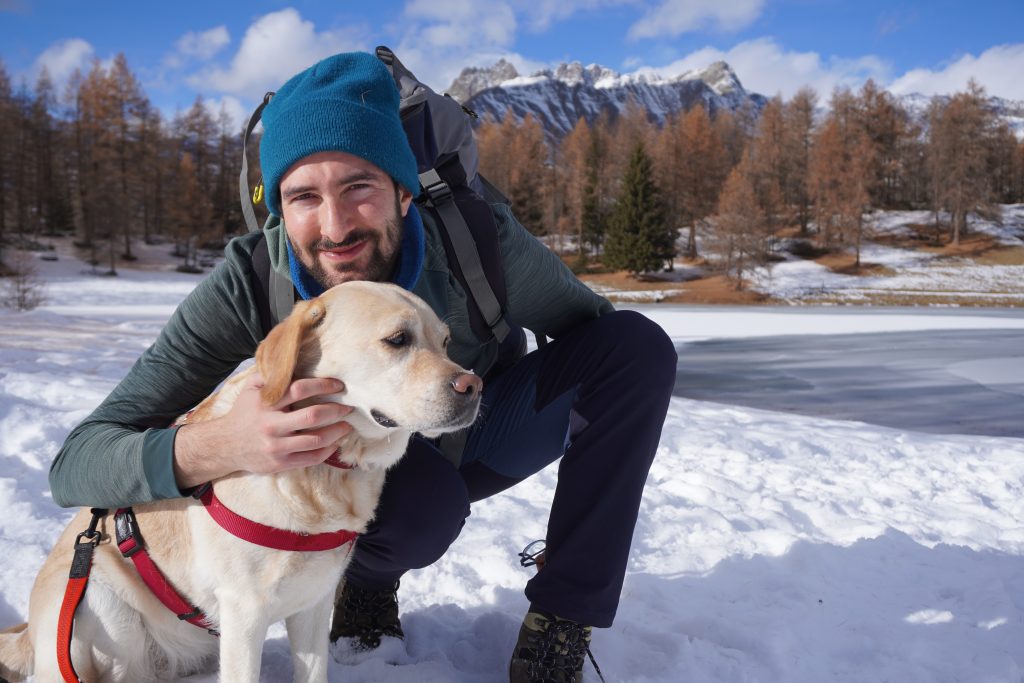 During the summer of 2022, we also hosted Roberto Tira, a visiting PhD graduate student from the University of Verona in Italy! We're excited to continue this collaboration.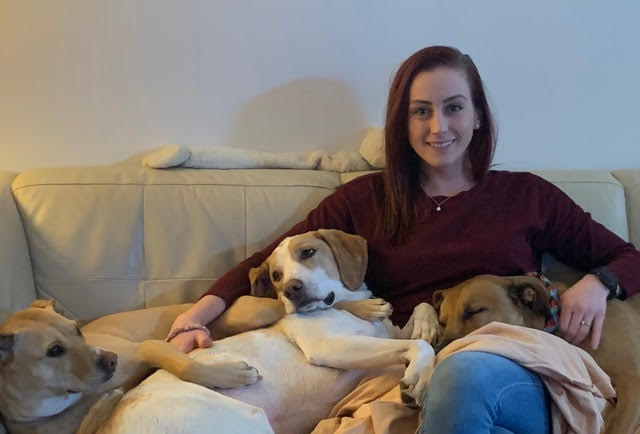 Amber Rusnock joined our lab as a lab technician for 1 year (2021-2022). Despite her short time in the lab, she led efforts to get our cell bio infrastructure up and running when we moved to LSC, while also contributing to cell bio experiments recently published here.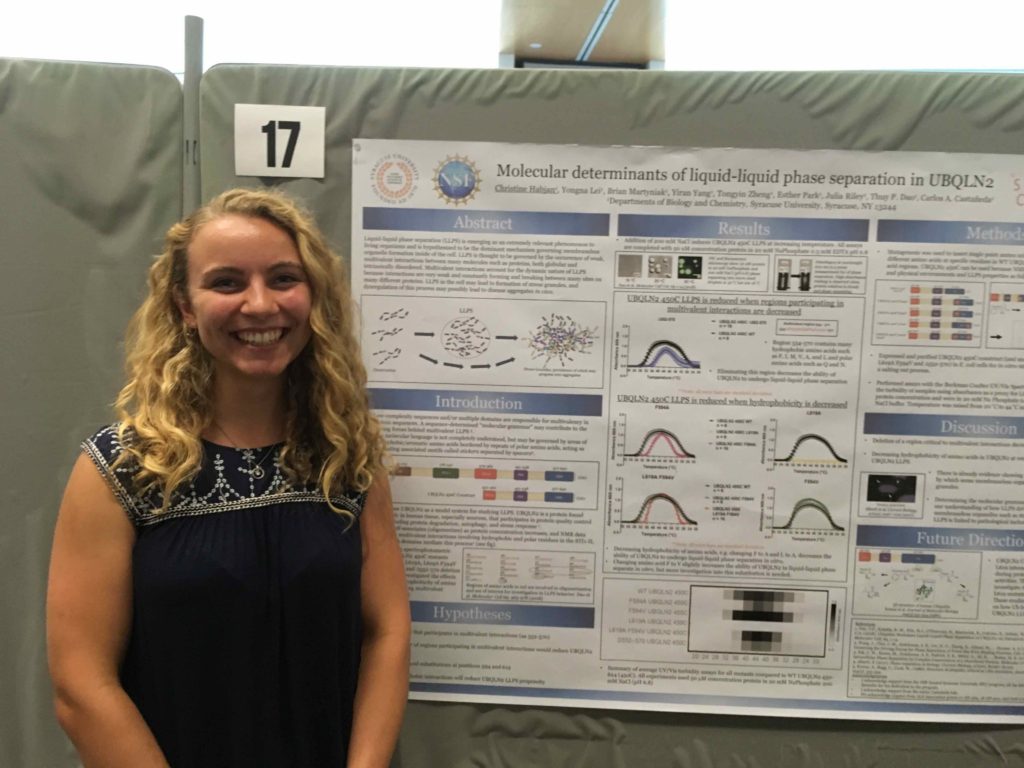 Christine Habjan '19 started in our lab in 2017, and stayed to do summer research in 2018. She presented her work at the 2018 Summer Research Symposium @ SUNY-ESF!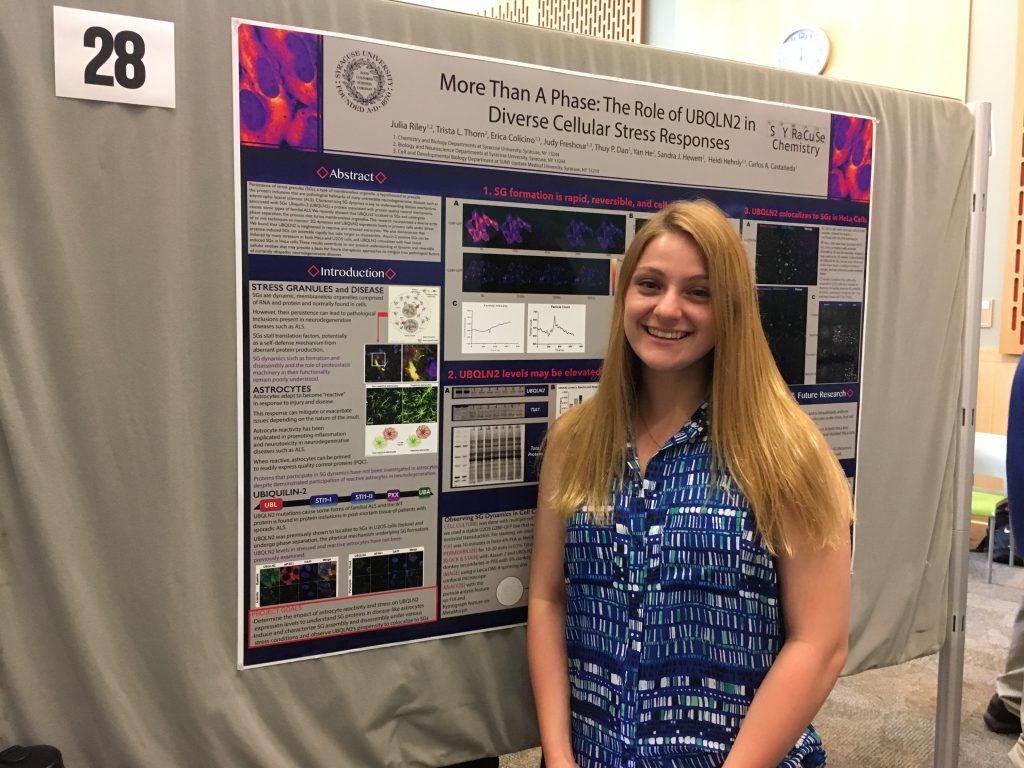 Jules Riley '20 joined the lab as a first year student, worked across three different labs to get cell stress experiments going in our lab for the first time. As an undergraduate, she published a first author research paper – you can read it here! Here she is presenting her research at the 2018 summer undergraduate research symposium.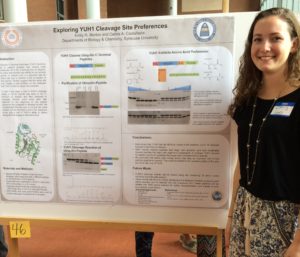 Emily Morton was our first Chemistry REU student in summer 2015!
Alum
Years in Lab
Level
Current Position
Emily Morton
REU 2015
Undergraduate
(Biochemistry)
Research Technician at Peloton Therapeutics
Alexandria Remillard
2014-2016
Graduate (Chemistry Masters)
Pfizer
Zachary Lanzar
2016-2017
Undergraduate (Biochemistry)
PhD Graduate Student in Immunology, University of Pennsylvania (started Fall 2020)
Ismael Gonzalez
2015-2018
Undergraduate (Biochemistry, Neuroscience)
MD/PhD program @ UNC Chapel Hill (started Fall 2021)
Esther Park
2016-2018
Undergraduate (Biochemistry)
PhD Graduate Student in the Johns Hopkins Molecular Biophysics Program (PMB) (started Fall 2019)
Maria Pons
REU 2017
Undergraduate (Biochemistry)
Research Technician @ University of California, San Francisco (UCSF)
Yongna Lei
2016-2019
Undergraduate (Biochemistry)
MD/PhD program @ Yale (started Fall 2021)
Christine Habjan
2017-2019
Undergraduate (Biotechnology)
Associate Study Manager, Invicro;
Starting PhD at Weill Cornell in Pharmacology (Fall 2023)
Brian Martyniak
2016 -2018
Graduate (Chemistry Masters)
QA/QC Supervisor, Acreage Holdings
Julia Riley
2016-2020
Undergraduate (Biochemistry and Neuroscience)
PhD Graduate Student in the University of Pennsylvania Neuroscience program (started Fall 2020)
Holly Jones
2018-2020
Graduate (Biology MSc)
Catalent Pharma Solutions
Barrington Bucknor
2017-2021
Undergraduate (Biochemistry and Neuroscience)
Pre-Health Post-Baccalaureate Program at University of Pennsylvania (starting Fall 2021)
Savanna Macchio
2019-2021
Undergraduate (Medicinal Chemistry)
Lake Erie College of Osteopathic Medicine (started Fall 2022)
Tongyin Zheng
2015-2021
Graduate (Chemistry PhD)
Postdoctoral Fellow, Fawzi lab, Brown University
Yiran Yang
2016-2021
Graduate (Chemistry PhD)
Scientist, Surrozen
Amber Rusnock
2021-2022
Lab Technician
Research Technician, Oklahoma Medical Research Foundation
Julianna Paladino
2019-2022
Undergraduate (Biotechnology)
Research Associate, Moderna
Honorary Lab Members
Luke (born November 2015), Ava (born February 2018), Leo (born June 2019)